The Biannual Blogathon Bash: Kick Off Post! #blogathon2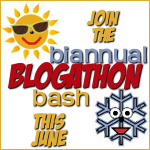 Okay, so you've seen a few posts by me regarding the Biannual Blogathon Bash that is happening right now. Well guess what?? Here's one more! This is my kick-off post to hash out what I want to get out of this blogathon. I've been such a great thonner so far… it being 10PM on Friday night; 14 hours from when the thon officially started, and just now is when I've been able to get to my computer to bash out a post! *facepalm* I blame it all on family. I have no "me" time. *whine whine whine* I did have a great day out with the fam today though (and have lobster-red shoulders to prove it!), and will possibly blog about it later, heh.
So… what do I want to get out of this blogathon? What are my goals? My hopes and dreams? What disasters do I need to fix?
Though publishing posts as much as possible within the 72 hour time frame sounds like FAB idea, it's not the only way to participate… and probably won't be the way to go for me. I can also prompt myself into fixing the odds and ends of my entire site so that I feel more "at home" here.
So this is what I'm thinking….
Get some social media icons up, gosh darn it! Yes, you've read that right. I actually don't have any social media icons on my site. The irony of this? I've made a whole bunch of icons for other peeps' websites.
Delete unnecessary content. I'm not talking about blog posts here! This website is run through drupal, and I have a few programs developed that I just don't need anymore. Such as an outdated coupon database when I thought about using this online space to organize my coupon collection. DONE!
Write a review blog post or two! I actually have some reviews that need to be written ASAP (bad BAD me!)
Write a blog post on ways Google+ is now being utilized on Google search. Did you really think you could get away and NOT use Google+ as a social media network?? In some ways, just owning a G+ account is one of the most important things you can do for your blog. Want me to tell you why??
Organize a photo gallery so that I can finally start displaying different bits of art that I've worked on – websites, photographs, photoshop images, jewellery, cards/papercrafting, etc.
Complete as many Mini Challenges as I can! I totally heart these challenges!
Completed:
#1 – How to Write a Better Tweet Challenge
#5 – Improving Alexa Rank Challenge
#6 – Creating a Fav Icon Challenge
Fix the front page finally!
Update navigation menu. Delete links that no longer work.
Hmmm, what else? This list will be updated throughout the blogathon. I'll scratch a few things off when I finally complete them, and I'll add more stuff to my list, when I finally think them up! Stay tuned.
As part of the blogathon, I've signed up for an event called Rocks and Roses, where I've agreed to allow an anonymous fellow thon participant write up a quick report of what they think I need to do to improve my site. Eeep!! I feel like I'm living that episode of The Simpsons where Marge cleans up her house until its all Spic-N-Spanny-Sparkley just before a team of house cleaners arrive! You know the episode I'm talking about? She's afraid these cleaning ladies will pass judgement on her house cleaning skills 'cause they're professionals (LOL!!). So I'm now in the frame of mind to nitpick my own site in hopes that this fabulous person who will be judging my site, won't find that one little smudge that will tarnish everything! Eeeek!!!
*breathe* Did I mention that Marge freaks out over a spot (Goes all, "Out you damn spot!"), and knocks herself unconscious from breathing in too many chemical fumes. Oh! And she winds up with amnesia…
…
*breathe*
No worries, it's all good… right? I know I need to improve my site by bucket loads, and I'll love to hear what this person believes are the *must fix NOW* areas of my site… doesn't mean I won't stupidly stress over it until its all done.
YES, I did readily and wholeheartedly agree to this FUN and AMAZING challenge, lol! All kidding aside, it will be fun and educational, and I'm SO looking forward to it, honest.
Do you want to join in on the weekend festivities??? There's still time to join in! Whatcha waiting for??
Tagged with:
Biannual Blogathon Bash